Year 8 Art trip to Goodwood Sculpture Park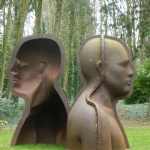 The park opened especially for us so we were lucky enough to have the whole place to ourselves
On the recent enrichment day the Art department took a group of year 8 students to the Goodwood Sculpture Park .
The park opened especially for us so we were lucky enough to have the whole place to ourselves .The aim of the park is to promote and commission sculptures and they staff were preparing to install some new pieces for when they open properly in April.
We were able to see a fantastic a
rray of con
temporary sculptures in a beautiful rural setting . Some of the sculptures are on a huge scale and they certainly got the students engaged and talking about what they might be about and how the artists create
d them.It was a fantastic trip and a great opportunity for the students to see and experience different art forms.
When we returned to school the students spent the rest of the day recording their visit in a diary.
There is a competition for the best record of the day in the diaries.
Th
e
deadline for this is the 21st March . We very much look forward to seeing the entrie
s and then awarding prizes for the most creative diaries .