China visit 2014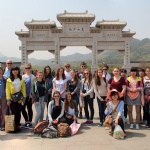 This Easter, 14 Year 10 students spent 12 action packed days in China.
Th
e fi
rst six days were spent in an around the City of Luoyang in the Henan Province. Luoyang is a 2 hour flight from Beijing and for the first time the students would be staying with Chinese families.
This was quite a big step for our students but the families made everyone so welcome and after the first night away all of the students were buzzing with stories but mainly the fact that they had 'proper'
toilets.
We were taken to several local sights such as the Longmen Grottos and The Shaolin Temple but probably the most enjoyable day was the long walk through the Longtan (Dragon) Valley Gorge mainly because the students could go rafting and traverse the gorge on a very high rope bridge.
We also travelled for two hours on the bullet train to Xian in order to see the Terracotta Army and the hundreds of warriors lined up in deep 'pits'. One of the most touching days was spent visiting some of the local schools in Luoyang with star performances by the children at the primary school who delighted us with traditional Chinese dance and music. Not to be outdone, Charlotte and Emma read two poems for an appreciative audience. Finally it was time to move on to Beijing where we would become western tourists!
We managed to see the Summer Palace, The Forbidden City, The Temple of Heaven and walk along the Great Wall as well as visiting the modern sights of the 2008 Olympic Stadium and the Science and Technology Museum. In the evening we watched a Kung Fu show and Chinese acrobats but perhaps the most competitive activity was haggling for the best deals in and around the markets with fake Rollex watches knocked down to about £10.
Without a shadow of a doubt this was an amazing experience that everyone on the trip will remember for a very long time.
We are offering this trip for 2015 and there are a small number of places left. For further information please contact Mrs Roberts by e-mail