PE Extra Curricular Activities
The Weald School offers pupils a wide range of extracurricular clubs which are run on a weekly basis. The clubs usually take place on Tuesday, Wednesday & Thursday afternoons after school, and finish in time for the late buses. Fixtures and tournaments with other schools feature regularly for all pupils.
For those that are keen on the performance side of PE, we offer the opportunity to attend Dance and Gym clubs where they will be given the opportunity to prepare routines for our annual Gym and Dance Display which is performed to parents every year in March.
Here at The Weald, we look to encourage all our pupils to enjoy and take part in sport, we look to develop pupils understanding/skills through performing, as well looking to develop their tactical knowledge of the game. We also hope that pupils will be able to develop the following key aspects being involved with a team:
1. Teamwork: Supporting your teammates in everything they do.
2. Respect: To your teammates, to your teachers, to the opposition and the referee.
3. Discipline: To learn the importance of obeying the rules of your sport and the school.
4. Enjoyment: Ensuring the pupils remember that sport is done for fun.
PE Interhouse Competition - March 21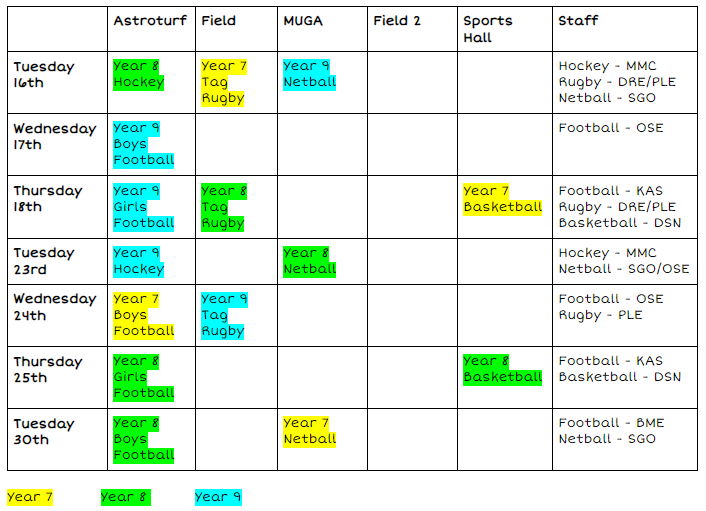 We are now at a place where we can offer extracurricular sport again. Between now and Easter we are planning on running a series of Interhouse events for Years 7, 8 & 9.
An Interhouse competition is where the six school houses compete against one another in a sporting event. Points are rewarded for both success and participation, as sport has taken such a hit in the last year we really hope to get as many students along to start competing and participating in sport again. The benefits that sport provides is vast as well as being a core part of 'Weald School Life'
The reason for prioritising Years 7, 8 & 9 is many have never competed in an Interhouse event before and have not had the opportunity at secondary school to get involved with extracurricular sport. we will look to extend this after Easter to more year groups and more sports. The Interhouse events run after school from 3:05 until 4:20, this allows those students who get buses to get a late bus home. Kit will need to be brought if not on PE and we will provide changing room facilities after school to get ready.
Students can either sign up with their form tutor but this is not essential, they can simply turn up and get involved.
There are multiple places students can check what events are running, either with their form tutor, on the Interhouse display board or on the wealdpe Instagram page.